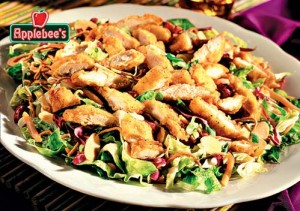 Preparation time : 20 min. | Serves 4 persons
This is a slightly modified recipe of the original Oriental Chicken Salad of Applebee restaurant. After learning the recipe you can make it everday at your home.
Ingredients:
For Chicken:
1 chicken breast (boneless and skinless)
1 egg
½ cup milk
½ cup flour
½ cup corn flake crumbs
1 tsp salt
¼ tsp pepper
oil for frying
For Salad:
3 cup chopped romaine lettuce
1 cup red cabbage
1 cup Napa cabbage
½ carrot (julienned)
1 green onion (chopped)
1 tbsp almonds (sliced)
1/3 cup chow mein noodles
For Salad Dressing:
3 tbsp honey
1½ tbsp apple vinegar
¼ cup mayonnaise
1 tsp Dijon mustard
1/8 tsp sesame oil
Procedure:
1. To prepare chicken cut the chicken piece into thin strips and then in a separate bowl mix dry ingredients together including flour, corn flake crumbs, salt and pepper.
2. Beat egg with milk. Dip each chicken strip into the egg mixture and then coat with dry mixture.
3. Heat oil for deep frying and then fry chicken strips until become golden brown in color.
4. To prepare dressing combine all the ingredients mentioned for dressing and then refrigerate for 15 min.
5. In a salad platter combine veggies including red cabbage, napa cabbage, green onion and romaine lettuce.
6. Put chow mein noodles on top of veggies and sprinkle almond slices on it.
7. Now place fried chicken strips over the salad so that all the ingredients of salad would cover properly with the chicken pieces. Serve the delicious oriental chicken salad with the prepared dressing.
photo source : 1