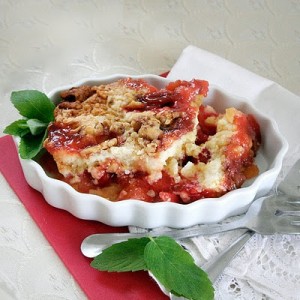 Preparation time : 80 min. | Serves 6 persons
This dump cake recipe is prepared with cherry pie filling and cranberry sauce hence it would be a delicious dump cake for Christmas. You can also use different flavor of pie filling and fruits for the bottom layers to make cake according to your taste.
Ingredients:
16 oz whole cranberry sauce
20 oz cherry pie filling
20 oz yellow cake mix
100gm butter
½ cup chopped nuts
Procedure:
1. Heat oven to 325 degrees F.
2. Pour cranberry sauce in a rectangular baking pan.
3. Spread cherry pie filling over the sauce and distribute it evenly over the sauce.
4. Put the yellow cake mixture on top of the pie filling and sprinkle chopped nuts onto the cake mix.
5. In the end dot butter at distances onto the top of the cake and then bake for 75-80 min in preheated oven until become done and turn into light golden brown from top.
6. After that cool it to room temperature and serve with whipped cream after cutting it into squares.
photo source : 1