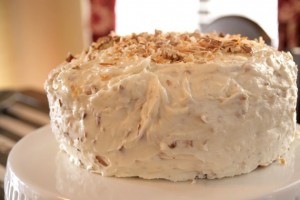 Preparation time : 80 mins. | Serves 8-10 persons
This Italian cream cake recipe is one of famous cream cake prepared with cream cheese frosting. The cake has dominant flavor of pecans in sponge and frosting both, you may also add some other flavors like canned raspberries and nuts in frosting to make the cake more delicious.
Ingredients:
For Spong Cake:
3½ cup shredded coconut (roasted)
½ cup unsalted butter
1 cup vegetable shortening
2 cup sugar
5 egg (separated)
2 cup cake flour
1 tsp baking soda
1 cup buttermilk
1 tsp pure vanilla extract
½ cup chopped pecans
For Frosting:
16 oz cream cheese (softened)
1 cup unsalted butter (softened)
2 tsp pure vanilla extract
12 oz confectioners' sugar
½ cup chopped pecans
Procedure:
1. In a large mixing bowl, cream together butter, shortening and sugar till gets fluffy.
2. Add egg yolks one by one and beat well after each addition.
3. Sift together dry ingredients including flour and baking soda. Add this dry mixture and buttermilk alternately to the butter mixture. Beat at low speed to mix them well.
4. After that add vanilla, coconut and pecans and mix.
5. Now beat egg whites in a separate bowl until stiff peaks are formed then fold it into the cake mixture using spatula.
6. Take three 8" size cake pans or take deep cake pan to make cake in a single pan, it would prefer to use three pans otherwise you will have to divide prepared sponge into layers for frosting.
7. Pour the batter equally into the greased baking pans and place them in preheated oven for 45 mins. at 350 degrees F or until toothpick inserted comes out clean.
8. Meanwhile prepare frosting for cake, for that beat together cream cheese, butter and vanilla, then add confectioners' sugar and beat again to mix. Add half of the chopped pecans to the frosting mixture and set aside.
9. When cake is ready cool it to room temperature then, apply frosting on the top of one sponge, place second sponge on top of the frosting and apply frosting to the top of the second sponge and cover it with third piece of cake. Now apple remaining frosting to cover the whole cake and spread reserved pecans to the center of cake. Chill it for an hour in fridge and then serve.
photo source : 1