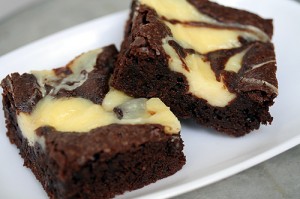 Preparation time : 45 min | Serves 16 pieces
This cheesecake brownie recipe is one of a tempting brownie recipe which looks awesome. It is prepared with brownie batter (which can also prepared by your own brownie recipe) and cream cheese batter which enhances its flavor and gives this brownie cheesecake like flavor.
Ingredients:
1 stick unsalted butter (melted)
1 cup sugar
1 tsp vanilla extract
¼ cup unsweetened coco powder
Pinch of salt
½ tsp vinegar
2 eggs (beaten)
¾ cup all purpose flour
Cream Cheese Batter:
8 oz cream cheese (softened)
¼ cup sugar
1 egg
1/8 tsp vanilla extract
Procedure:
1. Preheat the oven to 350 degrees F.
2. In a mixing bowl combine melted butter, sugar and vanilla extract and blend them together until they combine well.
3. Add cocoa powder, pinch of salt and vinegar and beat again to make uniform mixture.
4. Now add the blended eggs and beat again till combine well.
5. After that fold the batter with flour and make smooth batter.
6. In another bowl beat together cream cheese, sugar, egg and vanilla extract until become light.
7. Take a greased rectangular baking pan and pour ¾ of the coco batter into it, spoon the cream cheese mixture over it and spread it over the whole batter evenly. Then pour remaining coco batter and make swirls using spoon or fork to give it marble texture.
8. Place the pan in preheated oven for 30 min, then cool it on wire rack and make 16 equal pieces and refrigerate for 15 min before serving.
photo source : 1