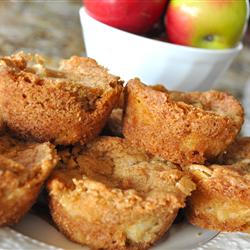 Preparation time : 60 min. | Serves 6 persons
This apple brownies recipe has no more chocolate flavor but filled with apple and walnuts flavor. Except its color its look very much similar to brownies as every kind of brownies prepared with almost same method, they don't require over beating you just need to combine all ingredients to make uniform batter.
Ingredients:
½ cup melted butter
4 cup diced apples
1 cup sugar
1 egg
½ cup walnuts
1 cup flour
½ tsp baking powder
½ tsp baking soda
¼ tsp salt
1 tsp cinnamon
Procedure:
1. In a large mixing bowl beat together butter, sugar and egg.
2. Add apple and walnuts and mix well.
3. Sift together dry ingredients and then add it gradually to the apple mixture when batter becomes smooth pour it into the greased square baking pan of suitable size.
4. Bake in preheated oven for 40-50 min until bake properly form inside.
photo source : 1