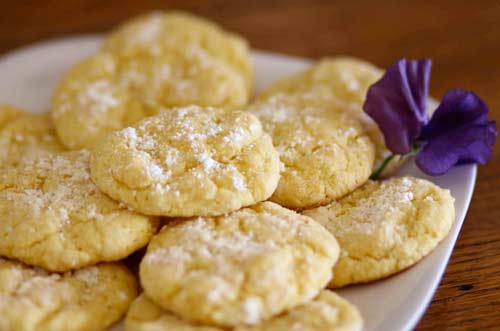 Preparation time: 30 mins. + 30 mins Refrigeration time | Serves around 2 dozen cookies
These Ooey Gooey Butter Cookies are prepared with yellow cake mix and cream cheese flavor. Therefore, the cookies have some salty and sweet flavors. You can make these cookies with some other flavors of cake mix like lemon cake mix, chocolate cake mix, etc.
Ingredients:
3 cups yellow cake mix
1 stick butter
½ tsp vanilla
8 oz cream cheese (softened)
1 egg
Powdered sugar as required
Procedure:
1. In a stand mixer bowl, cream together butter, vanilla, egg, and cream cheese until becomes fluffy and light.
2. After that, gradually add cake mix and mix at low speed, the batter should be like a sticky dough. Cover and refrigerate the batter for 30 mins.
3. Now start making small balls of 2-inch size and then coat them with powdered sugar.
4. Take a cookie sheet, line it with a parchment sheet, and then grease it with 1 tbsp of butter or oil.
5. Place the coated balls on the sheet, keeping a 1-inch distance between each of them.
6. Bake in preheated oven at 350 for 10-12 mins. or until cracks appear on top.
7. When the Ooey Gooey Butter Cookies are done, cool them to room temperature and then serve with a topping of powdered sugar if desired.