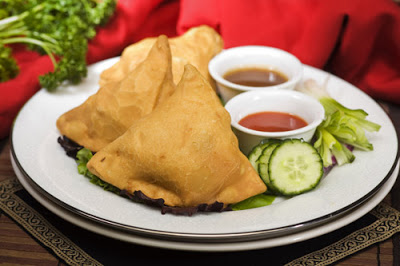 Preparation time : 40 mins | Serves 12 samosa

Samosa is prepared in different styles in Pakistani cuisine. They differ only in stuffing which may be of meat, vegetables or potato only. This one is beef samosa recipe which is a bit spicy and sour in taste due to the addition of lemon which enhances its flavor.
Ingredients:
125 gm ground beef
4 medium size onion (julienne)
1 tspn ginger paste
1 tspn garlic paste
1 tspn red chili powder
Salt to taste
1 tspn cumin powder
1/2 tspn black pepper powder
1/4 tspn mix hot spice powder
5-6 green chilies (chopped)
2 lemon juice
Procedure:
1. In a sauce pan, cook ground beef with ginger garlic paste, red chili powder and salt at medium heat for 15-20 mins until beef become completely tender.
2. After that dry all the extra water on high flame and then mix rest of the ingredients including green chilies, cumin powder, black pepper, onion and lemon juice. cook all them together until onion become soft, it would take 8-10 mins.
3. Cool the prepared ground meat filling at room temperature.
4. To make samosa you can take ready made flat bread to wrap the filling or you can make the dough at home for wrapping the mixture, go to vegetable samosa recipe for samosa dough and other instructions required for preparing samosa.
5. Deep fry all the prepared samosa for 3-4 mins on medium heat until become light golden in color.
Serving:

Serve the delicious hot samosa with ketchup.