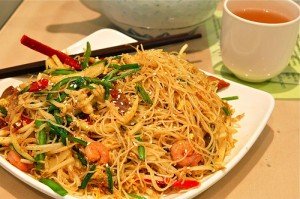 Preparation time : 20 min. | Serves 4 persons
This Singapore noodles is prepared with veggies and shrimp with Asian spices. You can add veggies of your own choice but they should remain crispy after cooking so that looks fresh and appealing to eat.
Ingredients:
2/3 cup chicken broth
1 tbsp oyster sauce
1 tbsp curry powder
1 ½ tsp sugar
1 tbsp canola oil
1 cup small shrimps (cleaned)
Salt to taste
¼ tsp ground pepper to taste
1 medium red onion (chopped)
1 red bell pepper (chopped)
½ tbsp ginger garlic paste
4 oz thin rice noodles
Procedure:
1. In a wok stir fry shrimps in 1 tsp of oil for just 2 min until become light pink in color. Then remove it from wok and set aside.
2. In the same pan stir fry ginger garlic paste for just 1 minute until pleasant smell starts to come then add veggies including onion, bell pepper and peas and fry for 2 min so that veggies remain crunchy and would not become soft.
3. Add chicken broth, curry powder, oyster sauce, sugar and salt and pepper and cook on medium heat until it boils.
4. Soak rice noodles in hot water for just 4-5 min then drain all the water and set aside or cook according to package instructions.
5. Then add fried shrimps and noodles and stir well to mix.
6. Serve the hot Singapore noodles with ketchup or any other sauce.
photo source : 1