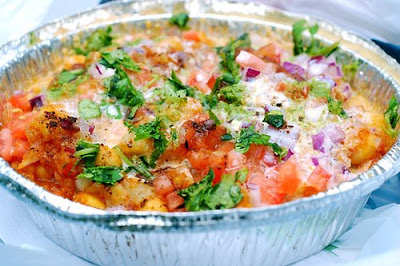 Preparation time 45 mins | Serves for 6 persons
This is a traditional street food of South Asian Cuisine and is also prepared at home at tea time. It is known with different names like "Chana Chaat", "Aloo Choley Chaat", etc. Its taste is bit spicy and sour and you can make it bit sweet by adding tamarind paste. the flavors of spices can be adjusted by the taste. Try this chaat recipe which is quite easy to make and enjoy healthy delicious food at home.

Ingredients:
2 cup chick pea (soaked in water for overnight)
1 tbspn ginger paste
Salt to taste
1 tbspn red chili powder
2 cup yogurt
1/2 cup coriander leaves
1/4 cup mint leaves
4-5 green chilies
1 cup boiled potatoes (cut into small cubes)
2 medium size onion (cut into thin circular slices)
2 medium size tomato (cut into thin circular slices)
Crispy and crunchy fried bread as required
Chaat Masala as required
Water as required
Procedure:
1. In a sauce pan, boil chick pea with ginger paste, red pepper, salt and water. The quantity of water should enough to cover all the chick pea and let it boil for 30-40 minutes or you can use pressure cooker to get boiled chick pea in just 15-20 minutes.
2. Take a blender, put mint leaves, coriander leaves, green chilies, salt and yogurt and blend to make smooth paste.
3. Now in a serving bowl, make a layer of boiled chick pea and pour the yogurt mixture as much as you want, then one by one make layer of boiled potatoes, onion, tomato and crispy fried bread. In the end sprinkle some chaat masala over it.
Serving:
Delicious chaat is ready to serve at tea time party.
Note:
To make crispy fried bread you can use the dough of salty crispy snack just roll the dough to make thin flat bread of any shape and then deep fry the bread.