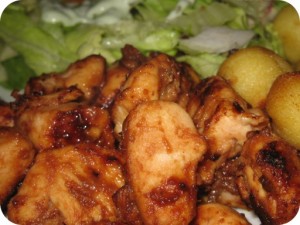 Preparation time : 60 min. | Serves 4 persons
This sticky chicken recipe is prepared by baking method hence you just need to marinate chicken with the ingredients mentioned below and then bake. If you want juicy chicken then you would have to put water dish in the oven while preheating the oven and then place the baking dish of chicken onto the water dish in such a way that water would not enter into the chicken. In that way chicken would not get dry and remain juicy after baking.
Ingredients:
4 chicken breasts
½ cup ketchup
3 tbsp brown sugar
2 tbsp white vinegar
2 tbsp Worcestershire sauce
2 tsp dry mustard
1 tsp garlic powder
1 tbsp paprika powder
¼ cup oil
Procedure:
1. In a large mixing bowl combine all the ingredients except chicken and make smooth paste.
2. Marinate chicken with the prepared mixture and leave for at least 15 min.
3. Preheat oven to 350 degrees F and then bake marinated chicken for 40 min.
4. When chicken become brown and tender completely take out from oven and serve with salad and fries.
photo source : 1