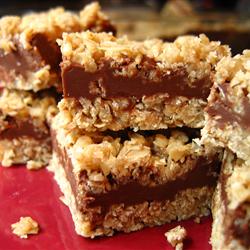 Preparation time : 30 min + 3 hrs. Refrigeration time | Serve 12 bars
This chocolate oat bars recipe is another addition to our No-Bake recipe collection. These bars are prepared by refrigeration hence require more time in preparation though its cooking method is quite easy. You can save your time by preparing it at night and then refrigerate it for overnight.
Ingredients:
1 cup butter
½ cup brown sugar
1 tsp vanilla extract
3 cup quick cooking oats
1 cup semisweet chocolate chips
½ cup chopped almonds
½ cup peanut butter
Procedure:
1. In a saucepan, melt butter over low heat and then prepare syrup after adding sugar and vanilla in the melted butter.
2. When sugar dissolve completely fold the syrup with oats and mix well to make crumbs.
3. Now press the oat crumbs at the base of square greased pan and leave it to set in fridge. Reserve 1/3 of the crumbs for topping.
4. Meanwhile prepare chocolate layer for the bars, for that you need to melt chocolate chips in a heavy sauce pan or in double boiler and then mix with chopped almonds.
5. Pour the chocolate mixture over the crumbs layer and make it even using spatula.
6. In the end sprinkle remaining crumbs over the top and then refrigerate for 2-3 hrs until become firm and set completely.
7. After that cut it into square bars shape (at the time of cutting bring it to room temperature). It would yield 12 medium bars.
photo source : 1