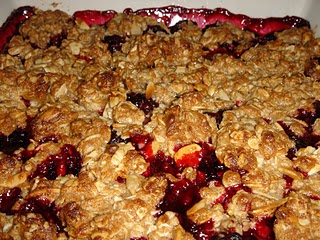 Preparation time : 40 mins. | Serves 6 persons
This blackberries crisp is almost similar to apple crisp with little difference. These kinds of desserts can be served with variety of styles for instance ice cream, whipped cream, jelly or sauces which not only increases its flavor but also looks attractive.
Ingredients:
700 gm blackberries
2 tbsp flour
1 cup flour
1 cup light brown sugar
1/2 cup butter (softened)
1 tsp ground cinnamon
1 tsp ground nutmeg
Procedure:
1. Preheat oven to 350° F.
2. Coat blackberries with 2 tbsp of flour and spread it in baking dish.
3. Make crumbles of flour by mixing 1 cup flour with butter and seasoning of brown sugar, cinnamon and nutmeg.
4. Sprinkle these crumbles on blackberries and place in preheated oven for 30 mins. until become light brown for top.
5. You can serve this blackberry crisp either as hot or make it chill with some ice cream or cream then serve.
photo source : 1