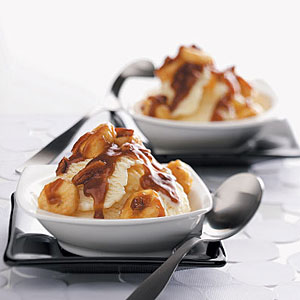 Preparation time : 15 min. | Serves 2 persons
This banana foster recipe is one of an easy and quick dessert recipe. You can lots of variations in this recipe by adding some chopped nuts in the caramel sauce or adding two or more flavor ice cream but vanilla ice cream is best for the banana foster.
Procedure:
4 tbsp unsalted butter
4 tbsp brown sugar
2 ripe bananas (peeled & cut into slices)
¼ tsp cinnamon
2 tbsp orange juice
1½ cup ice cream
Procedure:
1. Prepare caramel for the foster by cooking together butter and brown sugar.
2. Saute banana slices in the caramel for just 2-3 min then mix with cinnamon and orange juice.
3. In a serving bowl, put ice cream and pour the prepared banana sauce over it. Delicious banana foster is ready to serve.
photo source : 1