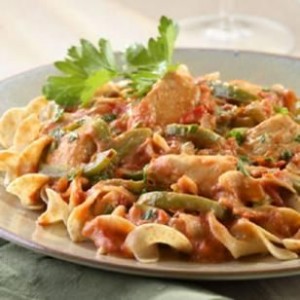 Preparation time : 15 min. | Serves 8 persons
This recipe for chicken salsa is served with noodles and also the look of this salsa chicken is different from traditional recipe as it is prepared with cooked shredded chicken instead of whole chicken breast.
Ingredients:
1 lb chicken (cooked & shredded)
1 pck taco seasoning
16 oz wide egg noodles
24 oz salsa
16 oz sour cream
Procedure:
1. Boil noodles according to the package instructions.
2. Ina mixing bowl combine sour cream and salsa and then mix with chicken.
3. Add taco seasoning and cook over medium heat for 5-8 min.
4. Remove the pan from heat and mix the salsa chicken with the cooked noodles and serve immediately with tossed salad.