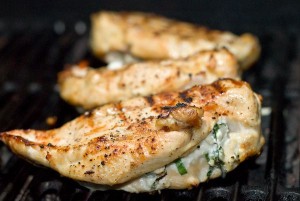 Preparation time : 25 mins. + 30 mins. Marinating time | Serves 2 persons
Chicken Sizzler is a cheese stuffed chicken breast which is initially cooked on low heat, then grilled after stuffing. In the end presented on a hot sizzling platter. To finish it of we top it with any sauce like chili garlic or orange sauce. You can make variations in this recipe by adding some different types of stuffing like we use in making chicken roulade.
Ingredients:
1 boneless chicken breast
¾ tsp salt
1 tsp crushed black pepper
1 tsp garlic paste
1 tsp mustard paste
1 tbsp white vinegar
¼ cup oil
1 tbsp margarine
For Stuffing:
4 tbsp mozzarella cheese (grated)
½ tsp mixed herbs
1 tbsp coriander leaves (chopped)
Procedure:
1. Divide chicken breast into half from center, then take a piece and start slicing it from one edge and stop reaching at opposite edge to give its shape like open book.
2. Now prepare marinade for the chicken by mixing together black pepper, salt, mustard paste, vinegar and garlic.
3. Rub the chicken pieces well with this marinade and leave it for 15 mins.
4. After that, heat oil in a pan add marinated chicken in it and simmer for 10-15 mins.
5. Meanwhile prepare filling by mixing all the stuffing ingredients.
7. When the chicken is done, take it out from pan, place chicken with open face on a platter and spread prepared cheese stuffing on one face. Cover the filling with other face and set aside.
8. Grease the grill pan with margarine and heat it thoroughly. Place stuffed chicken breasts onto the grill pan and cook for just 2-3 mins. each side to give marks.
9. Heat your sizzling pan, put the grilled chicken breasts on it and top with chili garlic or orange sauce and served with mashed potatoes. You may also pour some flavored sauce like orange sauce on it.
photo source : 1