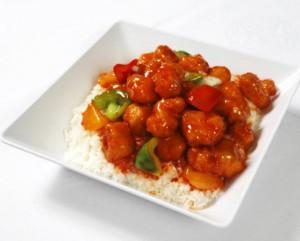 Preparation time : 45 mins. | Serves 4 persons
This sweet and sour chicken recipe is one a delicious Chinese recipe. It is prepared with either chicken or shrimp, here in this recipe chicken is used which gives best taste with the vegetables and sauce used to prepare this recipe.
Ingredients:
500 gm boneless chicken (cut into small cubes)
For Chicken Marinade:
½ tsp salt
½ tsp soy sauce
1 tbsp corn starch
1 tbsp cold water
1 egg yolk
For Fried Chicken:
Corn starch (as required)
4 cups oil
Vegetables for Sauce:
1 green bell pepper (cut into cubes)
2 carrots (optional) (cut into squares)
2 onions (cut into small squares)
1 can pineapple (drained)
For Sauce:
4 tbsp vinegar
4 tbsp ketchup
4 tbsp sugar
5 tbsp cold water
5 tbsp pineapple juice
1 cup chicken stock
3 tsp corn starch
1 tsp salt
1 tsp toasted sesame oil (optional)
Procedure:
1. Marinade chicken pieces in the ingredients mentioned for marinade. Leave the marinated chicken for at least 30 mins.
2. Heat oil in pan for deep frying and fry the marinated chicken pieces until become light brown in color. If you want more crispy chicken then coat the marinated chicken with corn starch and then fry.
3. Now stir fry vegetables in 2 tbsp of oil for just 4-5 mins. on high flame.
4. Add ingredients mentioned for sauce in the fried vegetables except corn starch. Let the mixture to boil on medium heat.
5. After that add cornstarch to the mixture and cook for 2-3 mins more until the sauce gets thick.
6. Remove the pan from heat and add fried chicken pieces to the sweet and sour sauce.
7. Serve this hot sweet and sour chicken with boiled or fried rice.
photo source : 1