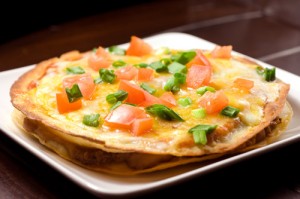 Preparation time : 30 mins. | Serves 4 pizzas
This Mexican pizza recipe is prepared with flour tortillas, hence it would become more easier than any other pizza as they required pizza crust. They are also light due to thin crispy crust of tortilla.
Ingredients:
500 gm ground beef
1 tbsp ginger garlic paste
1/2 tsp salt
1 tbsp onion (minced)
1/4 tsp paprika
1−1/2 tsp red chili powder
2 tbsp water
8 small flour tortillas
1 cup cooking oil
1/3 cup tomato (diced)
2/3 cup mild picante salsa
1 cup shredded cheddar cheese
1 cup shredded Monterey Jack cheese
1/4 cup green onions (chopped)
1/4 cup black olives (sliced)
Procedure:
1. In a sauce pan cook ground beef with ginger garlic paste and salt on medium heat until all the water of meat have been dried.
2. After that add salt, onion, paprika, chili powder and water and simmer for 10-15 mins.
3. Now fry tortilla in very hot oil for just 30 seconds. If any bubbles are formed during frying then remove them so that tortilla would remain flat.
4. Now take a piece of tortilla and spread the prepared ground beef and salsa on it, place another tortilla piece onto it and spread veggies (tomatoes, olives and onions) and cheeses.
5. Place the pizza in preheated oven at 400 degrees F for just 10 mins.
photo source : 1