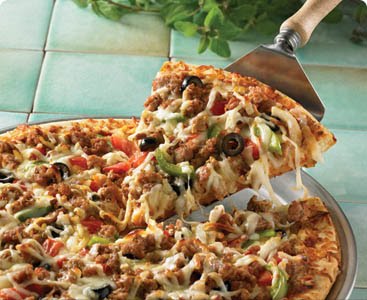 Preparation time : 15 mins | Serves 2 persons
This supreme pizza recipe is prepared with mainly chicken supreme hence why its name
pizza supreme
. A good pizza can not be completed without adding veggies so here in addition to chicken some vegetables including mushrooms, capsicum and olives are used to enhance the flavor of this pizza.
Ingredients:
1 cup boneless chicken supreme cooked (make small pieces)
1 regular Pizza crust (or click here for homemade pizza dough)
3-4 butter mushrooms (cut into small pieces)
1 large capsicum (cut into small cubes)
1/4 cup black and green olives
1/4 cup pizza sauce
1/2 tsp oregano
1/2 cup shredded mozzarella cheese
1/2 cup shredded cheddar cheese
Procedure:
1. For making boneless chicken supreme click here.
2. To make this pizza supreme take a pizza crust and spread pizza sauce evenly over the whole crust surface.
3. Now place boneless chicken supreme pieces onto the sauce so that all pieces are evenly distributed.
4. Spread vegetables including capsicum, mushrooms and olives and sprinkle oregano throughout the crust.
5. In the end spread both the cheese onto the pizza and bake for just 10-12 mins at 450 degrees F. Turn on both upper and lower burner in the start but after 8 mins turn off the lower flame so that pizza crust would not become hard.
6. Delicious hot supreme pizza is now ready to serve.