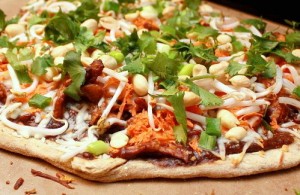 Preparation time : 30 mins. | Serves 1 large pizza
This Thai chicken pizza is prepared in slightly different way, in this particular recipe the pizza sauce is replaced by a peanut butter sauce and is topped with noodles along with bell pepper. Hence, it has some different flavor but tastes good.
Ingredients:
⅓ cup peanut butter
¼ cup warm water
2 tsp sugar
2 tsp apple vinegar
½ tsp crushed red pepper
2 tsp canola oil
1 lb boneless chicken (cut into strips)
½ cup green onion (thinly sliced)
2 cloves garlic (minced)
For Topping:
1 cup red sweet pepper (cut into thin strips)
½ cup mozzarella cheese (shredded)
½ cup cilantro (chopped)
1 cup boiled egg noodles (cut into small threads)
1 cup roasted peanuts

Procedure:
1. In a small bowl combine peanut butter, water, sugar, vinegar, and crushed red pepper and make a uniform batter. If necessary add more water so that consistency of the sauce matches with the pizza sauce.
2. In a skillet, heat oil over medium heat, add chicken and cook until become white in color.
3. Then add green onion and garlic and cook for 102 mins.
4. Now add 2 tbsp of peanut butter mixture and cook it over low heat. Stir continuously so that sauce coats well around each chicken strips.
5. Remove the pan from heat, take a large pizza crust, spread remaining peanut sauce, then make layers of chicken mixture, red pepper strips, and cheese.
4. Bake the pizza in preheated oven to 15 mins at 475 degrees F. Then remove from oven and sprinkle with cilantro and boiled noodles.
photo source : 1