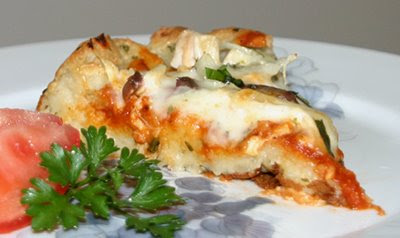 Preparation time : 20 mins | Serves 6 persons
This is a very different pizza recipe as the dough is prepared with potatoes and no more yeast is used in this recipe. The crust of pizza becomes very soft and crisp from outside you can make it crispier by adding small amount of corn flour. This is potato pizza is a quick recipe of pizza with dough to make at home. For more recipes of pizzas, refer to the book The Art of Pizza Making, which contains dozens of pizza recipes.
Ingredients:
For Dough:
1 cup mashed potatoes
2 cup all purpose flour (or as required)
1 tspn baking powder
Pinch of salt
1 tspn sugar
½ tspn oregano
For Topping:
Vegetables as required
pinch of oregano
Pinch of rose merry
Mozzarella cheese as required
Procedure:

1. Preheat oven at 400 F.
2. Take dough mixer bowl, add all the ingredients mentioned above and turn on the mixer , when the mixture forms the shape of dough and it pulls away from the side walls of bowl then turn the mixer off and take out the dough from the bowl.
3. Divide dough into two pieces. Take a pizza pan and spread one of the dough piece over the pizza pan just like pizza dough.
4. Now place the pan in oven for just 2-3 mins so that it half cooks from inside.
5. After that spread the pizza sauce over it and make topping according to your taste like vegetable or meat topping and spread mozzarella cheese.
6. Bake the pizza for 5-8 mins in the oven and take out the pan when it becomes light golden in color.