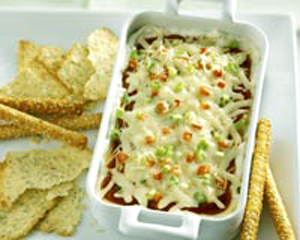 Preparation time : 20 min. | Serves 4 persons
This pizza dip recipe is prepared with delicious ingredients which are all time youngster's favorite food like cream cheese, three different pizza cheeses, pizza sauce and tempting veggies. All these ingredients when combine to form one food that definitely be an appealing for cheese and pizza lovers. You can also try this recipe with pizza crust which also tastes great.
Ingredients:
8oz cream cheese (softened)
1 tsp Italian seasoning
1 cup mozzarella cheese (shredded)
¾ cup fresh parmesan cheese (shredded)
15 oz pizza sauce
2 tbsp chopped green pepper
2 tbsp chopped red pepper
2 tbsp sliced green onion
Breadsticks or tortilla chips for serving
Procedure:
1. Preheat oven to 350 degrees F.
2. In a mixing bowl combine cream cheese and Italian seasoning and spread it over the base of a pie dish.
3. Combine cheeses and then spread over the cream cheese mixture. Now make layer of pizza sauce all around the cheese and then top with veggies. Bake for just 15 min until cheese melts completely and turn into golden brown in color.
4. Serve the hot pizza sauce with bread stick or tortilla chips.
photo source : 1