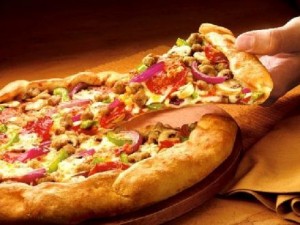 Preparation time : 60 mins. + 2 hrs. resting time for dough | Serves 4-6 persons
This stuffed crust pizza is stuffed with cheddar cheese slices hence become a cheesy chicken pizza. You can also stuffed meat kebabs in place of cheese and enjoy meat flavor in every bite of pizza.
Ingredients:
For Dough:
3 cup all purpose flour
1 tbsp instant yeast
2 tsp salt or to taste
2 tsp sugar
4 tbsp oil
For Topping and Stuffing:
1 chicken breast (cut into cubes)
Salt to taste
2 tbsp yogurt
1 tbsp crushed red chili
½ tbsp red chili powder
2 tbsp lemon juice
1 tbsp roasted cumin powder
1 tbsp ginger garlic paste
¼ cup oil
1 green capsicum (cut into small cubes)
1 yellow capsicum (cut into small cubes)
1 medium size onion (sliced)
¼ cup green olives
¼ cup black olives
1 tsp dried oregano
1 tsp dried thyme
Mozzarella cheese as required
8-10 cheddar cheese strips (thick)
Pizza sauce as required
Procedure:
1. Mix all the ingredients mentioned for the dough and make soft smooth dough using lukewarm water and leave at room temperature for 1-2 hrs to raise.
2. Marinate chicken pieces in yogurt, red chili, lemon juice, ginger garlic paste, salt and cumin and leave for at least 30 mins.
3. Take a non stick wok heat oil and cook marinated chicken in it for 15-20 mins at medium slow heat until all the water of chicken would have been dried and tender completely.
4. After that mix capsicums and onion in the chicken and cook on high heat for just 2 mins so that flavor of spices absorb in the veggies.
5. Now take the pizza dough and roll it to size of large pizza and spread it over the pizza pan so that it would larger than the pan size so that dough spread outside the pan.
6. Now spread pizza sauce only at the sides of the dough and now placing cheddar cheese strips at the circular sides of the dough. Then wrap the extra dough which spread outside over the cheese strips and seal well by pressing the dough.
7. When cheese strips cover completely by the dough spread the remaining pizza sauce in the center of the dough and now make topping of chicken vegetable mixture, olives and mozzarella cheese.
8. Place the pizza in preheated oven for just 8-10 mins at 400 degrees F and then turn on the upper burner or grill of the oven and reduce the temperature to 350 degrees F and bake for 5 more mins so that cheese melts completely and edges of dough turn into light golden in color.
photo source : 1