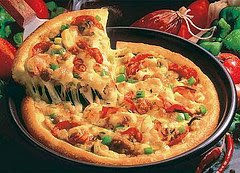 Preparation time : 30 mins (approx) | Serves 4 persons
Pizza toppings are very easy to make since it depends mostly upon your taste so any thing that you prefer and in any quantity goes on top. In this recipe, main ingredients for pizza toppings include vegetables, cheese and pizza sauce. For making pizza dough, you can use different dough mixers available but the best tools available are your own hands so use them for preparing pizza dough. If you call this a vegetarian pizza then it will not be wrong since many veges are being used in this recipe.

Ingredients:
4 cloves garlic (chopped)
1 onion (chopped)
1 tomato (chopped)
250 gms boneless chicken (small thin pieces; julienne)
4-5 green chillies (chopped)
1 tspn crushed black pepper
Salt to taste
50g saffron
Pizza Chees as required
Procedure:
1. Put 3 tbspn of oil in the pan and sauté garlic.
2. Add chicken and onion in it and fry till color of chicken changes to white.
3. Now add tomato, saffron, salt and pepper and mix.
4. Stir continuously on medium high heat and until all the water have been dried from it.
5. On the pizza dough spread pizza sauce first, then put the above filling on it and in the end put pizza cheese as much as you desire.
6. Put the pizza in the preheated oven for 8-10 minutes at 350o-400oF or 200oC.
Servings:
It can be served with any salad like macaroni salad and seven layer salad.