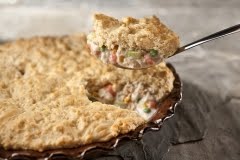 Preparation time : 25 min | Serves 4 persons
This chicken biscuit pie recipe is not much different form normal chicken pot pie recipe. In this recipe cream of mushroom soup is used to make gravy along with chicken and vegetables and the biscuit dough is used as top crust which is slightly different than the usual pot pie crust.
Ingredients:
2 tbsp butter
4 medium onions (thinly sliced)
1 tbsp green pepper (minced)
10 oz cream of mushroom soup
½ cup milk
1 cup cooked chicken (cubed)
½ cup cooked vegetables
8 oz refrigerator biscuits
Procedure:
1. Preheat oven to 425 degrees F.
2. Saute onions and green pepper in butter for just 2 min.
3. Add cream of mushroom soup, milk, chicken and veggies and let the mixture to boil over medium heat.
4. Transfer the mixture into the 9-inch pie plate and cover it with refrigerated biscuit dough. Place the plate in preheated oven for just 15 min until biscuits turn into golden brown.
photo source : 1