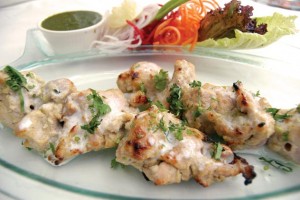 Preparation time : 20 mins + 45 mins Marination time : Serves for 8 persons
This smoked chicken recipe is most popular in South Asian cuisine and is served in most restaurants in dinner menu. This is actually called "Chicken Malai Tikka" just because of fresh cream which makes it more soft and give creamy flavor. It is little bit spicy in taste and is best to enjoy with naan.

Ingredients:
1 kg chicken breast (cut into long thin pieces)
4 tbsp green chili paste
2 tbsp mint and coriander paste (1/4 cup coriander and few mint leaves)
1 tsp crushed roasted cumin
1 tsp crushed roasted coriander
1 tsp white pepper powder
1 cup yogurt (drain out extra water)
1 tbspn ginger paste
1 tbspn garlic paste
4 tbsp fresh cream
4 tbsp raw papaya paste
Salt to taste
3-4 tbsp vegetable oil
Procedure:
1. Marinate chicken with ginger garlic paste, green chili paste, 2 tbsp raw papaya paste, cream, salt, cumin, coriander, white pepper and coriander and mint paste and leave for at least 3 hours.
2. Then add remaining papaya paste and yogurt and leave for further one hour.
3. After that in skewer sticks, insert the chicken pieces one by one. Or you may use grill tray to place individual pieces side by side on your charcoal griller. Keep brushing with oil so that meat would remain soft.
6. You can make bbq chicken in different ways
i. You can use your grill to cook chicken for that you have to burn the coals and then cook chicken over it. This is the best method to make bbq chicken.
ii. You can you can place the chicken sticks in a pan and cook them on stove for 15-20 minutes. After that place the burning piece of coal inside th. pan and cover it, this will give bbq flavor to your chicken.
iii. Or you can use your oven to bake the chicken pieces for 15 minutes at 200 degree centigrade.
6. You can choose any method to make this delicious bbq chicken.