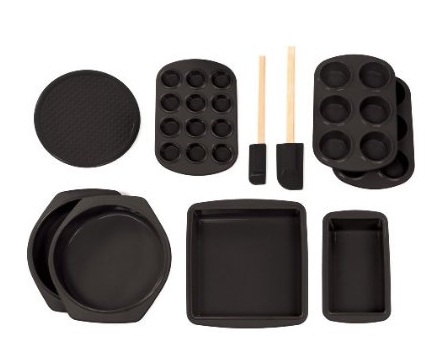 For those who bake very often, a baking set is a must-have, especially one that contains all the essential size pans and sheets. The product in review is silicone bakeware set by one of the finest quality manufacturers of silicone cookware, Silicone Solutions. Continue reading below to learn more about this silicone baking set.
The reason why silicone bakeware sets are gaining a huge amount of popularity is their quick-release surface and the ability to withstand high temperatures. This baking set is also heat resistant up to 500 F and another advantage is its freezer and microwave-safe feature. Every single piece in this silicone baking set is made for food grade silicone which is both stain and odor resistant.
This is a 10-piece silicone bakeware set consisting of baking pans and utensils that are used most of the time for making all sorts of baked food. The silicone baking set includes 2 x 9-inch round pans for making cakes, pizzas, etc. For muffins and cupcake lovers, especially those who have kids in their homes, this baking set contains 2 x standard 6-cup muffin pans and a 12-cup mini-muffin pan. Accompanied by 9×5 inch loaf bread for making bread of all kinds and a 9×9 inch square pan for making cakes, pies, and other baked items. Other pieces in the silicone bakeware set include an 8-inch trivet and two small and large size spatulas.
Since this silicone bakeware set offer quick release due to its nonstick nature, this baking set is also very easy to clean and maintain. The entire bakeware set is dishwasher safe and also very easy to clean by hand, just rinse in water after every use.
You can easily purchase this Silicone baking set from Amazon (with FREE shipping) at a special discount price plus a bonus promotional offer which might end anytime. You can also browse the nonstick bakeware set by Calphalon which is also rated as the bestselling bakeware brand.