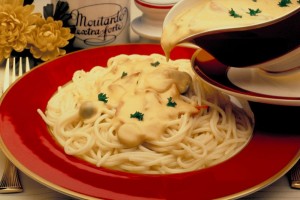 Preparation time : 20 min | Serves 4 persons
This alfredo sauce recipe is inspired from a famous American Restaurant Olive Garden. Make this delicious sauce at home and enjoy it with your favorite pasta.
Ingredients:
2 cup heavy cream
1/8 tsp garlic powder
½ cup butter
1/8 tsp pepper
¼ cup parmesan cheese
Procedure:
Heat butter in pan then add rest of the ingredients and cook over medium heat until the sauce gets desired thickness. The consistency of sauce is enough so that when it drops from spoon it would not drop easily and coat around the spoon.
Pour the yummy Alfredo sauce over pasta or chicken with topping of chopped parsley.
photo source : 1