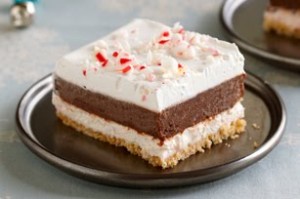 Preparation time : 20 min | serves 6-8 persons
This chocolate delight recipe is prepared in layer fashion in which 4 different tempting layers are prepared for this delight. The delight is prepared with the nut crust layer, cream cheese layer, chocolate pudding layer and the yummy cool whip layer, thus become a wonderful dessert for party.
Ingredients:
2 oz butter (melted)
5 oz flour
1 cup chopped nuts
8 oz cream cheese
4.5 oz powdered sugar
3 cup Cool whip
2 packs chocolate instant pudding
3 cup milk
Procedure:
1. Make smooth fine crumbs using butter, flour, and nuts and then press it tightly over the base of a suitable deep glass dish.
2. Bake it in preheated oven for just 10 min at 350 degrees F.
3. In a mixing bowl beat together cream cheese and sugar until become stiff then fold it nicely with 1 cup cool whip.
4. Make a layer of the cream cheese batter over the crust and place it in fridge.
5. Make pudding by combining milk and pudding mix together. Beat the batter until the pudding gets firm or stiff.
6. Make the layer of this pudding over the cream cheese layer and in the end cover it with the cool whip layer, sprinkle some cherries or strawberry chunks for topping and place in fridge to chill for at least 3 hrs until the chocolate delight gets firm.
photo source : 1