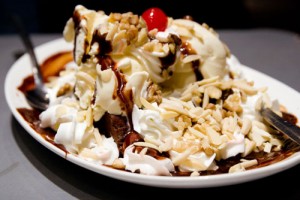 Preparation time : 20 min. | Serves 2-4 persons
This brownie sundae recipe is one of a quick summer dessert when you have brownies in your kitchen. This sundae is just an idea how to make a quick and easy summer dessert, you can also make changes to make it more tempting like by adding some more flavors of ice cream, chopped nuts and some other sauce.
Ingredients:
1 lb brownies (cut in squares)
½ cup pineapple juice
½ ltr. vanilla ice cream (or as required)
Cream for topping
Cherries for topping
Chocolate sauce for topping
Procedure:
1. Take a beautiful serving bowl or platter, spread brownie squares at the base.
2. Pour pineapple juice over the brownies, then put some scoops of vanilla ice cream and cover the sides with whipped cream by throwing it via pipping bag. Chill for 15 mins to set.
3. Just before serving top it with cherries and drizzle some chocolate sauce onto the delicious sundae.
photo source : 1