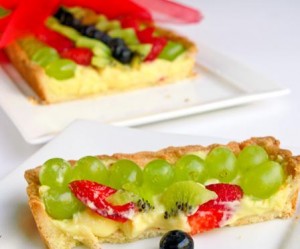 Preparation time : 30 mins. + Dough resting time | Serves 6 persons
This fruit flan is another form of fruit tart which is prepared in the same fashion. in this recipe the filling is prepared with custard and cream and is then topped with fruits of your own choice.
Ingredients:
For Crust:
8 oz flour
5 oz butter
3 oz caster sugar
1 egg (beaten)
For Filling:
1 cup milk
2 tbsp vanilla custard
2 tbsp sugar
200 ml cream
2 tbsp cream cheese
1 kiwi (cut into slices)
1 cup strawberries (cut into halves)
1 cup grapes
Procedure:
1. In a mixing bowl whisk together butter, egg and caster sugar.
2. Gradually add flour to the mixture and make smooth dough. Wrap the dough in plastic and refrigerate for 30 mins.
3. After that roll the dough according to the size of your pie dish and then place it over the dish so that it fixes well at the base and sides. Put some baked beans over the pie dish and bake in preheated oven at 375 degrees F for 15 mins.
4. Meanwhile prepare custard, for that heat milk, then add sugar and cook till sugar dissolves completely and mixture starts bubbling.
5. Then dissolve custard in 1 tbsp of cold milk and add in to the milk mixture, keep stirring so that lumps would not form and cook till the custard gets thick.
7. After that take out the beans from the pie dish and pour prepared custard over the crust. Cool it to room temperature then arrange fruits at the top in beautiful manner. Chill for at least half an hour then serve.
photo source : 1