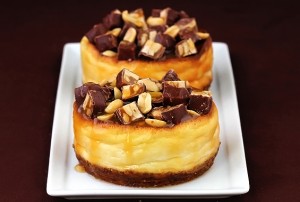 Preparation time : 90 min. | Serves 8-10 persons
This snickers cheesecake recipe is prepared with one of the most favorite chocolate candy Snickers hence has good yummy flavor. The cake is a baked type cheesecake which is then top with caramel syrup and lots of chunks of snickers bars so that you can enjoy lots of nuts chocolate flavor from inside and outside both.
Ingredients:
For the crust:
1 cup graham cracker (grounded)
2 tbsp sugar
1 tsp cinnamon
4 tbsp butter (melted)
For Filling:
1½ lb cream cheese
¾ cup sugar
4 large eggs
1½ tsp vanilla
12 mini Snickers bars (chopped)
For Topping:
1 cup caramel syrup
4 mini Snickers bars (chopped)
Procedure:
1. Combine grounded cracker with butter sugar and cinnamon and make soft crumbs. Make a tight layer of these crumbs at the base of a sprinform pan and refrigerate for 15 min.
2. Meanwhile beat cream cheese in a large mixing bowl till become light and fluffy.
3. Add sugar, eggs and vanilla and beat again until smooth. Then fold in chopped snickers.
4. Pour the prepared batter over the prepared crust and bake in preheated oven at 350 degrees F for 50 to 55 min. until become lightly golden from top and edges.
5. After that remove from oven and let it cool to room temperature. Drizzle the caramel syrup at top and put chopped snicker candy at the center.
photo source : 1