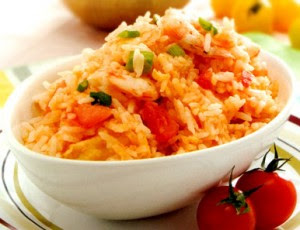 Preparation time : 40 mins | Serves 6- persons
This shrimp fried rice is prepared with some colorful veggies and spices which makes it delicious. The crispy fried shrimps are used in this fried rice which is hardly found in any other rice recipe. This is one of a healthy recipe so do try this fried rice with crispy shrimps at home.
Ingredients:
2 cup rice (soak in water for an hour)
2 garlic cloves (finely chopped)
1 small onion (cut into julienne)
1 small tomato (take out seeds and cut into julienne)
1 medium size capsicum (cut into cubes)
3-4 green chilies (chopped)
1 small carrot (cut into julienne)
1 cup spring onions (chopped only green parts)
4 tbspn oil
1 tspn crushed red chili
1/2 tbspn crushed black pepper
1 tbspn curry powder
Salt to taste
For Fried Shrimps:
500 gm shrimps (remove the tail and clean properly)
1 cup plane flour
1 cup corn flour
1 egg
2 tbspn oil
1 tspn black pepper
1 tspn red chili powder
1 tspn white pepper
1 tspn salt
1 tspn baking powder
Water or soda water as required
Procedure:

1. To prepare shrimp fried rice at first boil rice so that it would become cool while mixing with veggies and shrimps.
2. The batter which is used to fry shrimps is same as used in fried shrimp recipe.
3. Take a deep frying pan to stir fry onions, carrots, tomato, garlic and green chilies on medium high flame for 2-3 minutes so that they become slightly soft but should not turn into brown.
4. Now add capsicums and spring onions and stir fry for just a minute.
5. After that add fried shrimps and salt and mix them in vegetables and cook for 2 minutes.
6. When the aroma of shrimps and vegetable mixes together and beautiful smell starts to come then add boiled rice and mix them together.
7. Now add rests of the seasoning i.e. curry powder, red chili and black pepper and mix using suitable cooking spoon. Cook them together on high flame for 2-3 minutes.
8. Now the delicious shrimp fried rice is ready to serve.