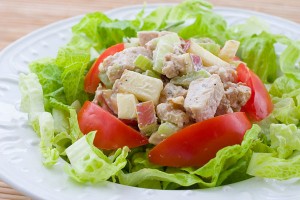 Preparation time : 10 mins. + Chill time | Serves 2-4 persons
This chicken waldorf salad is one of a healthy and quick salad prepared with few ingredients. It is the original recipe of the Waldorf Hotel and is served over a bed of lettuce surrounded by tomato wedges.
Ingredients:
2 chicken breasts (thinly sliced and boiled)
3 apples (diced with skin)
1 tbsp lemon juice
2 celery stalks (sliced)
3 tbsp walnuts chopped
½ cup mayonnaise
Salt and pepper to taste
Chopped parsley to garnish
Procedure :
1. Just after apples have been diced mix them with lemon juice so that their color would not change.
2. In a mixing bowl whisk together mayonnaise, salt and pepper.
3. Add in chicken, apples, celery and walnuts and toss well, sprinkle some parsley. Chill for at least 15 mins. before serving.
photo source : 1