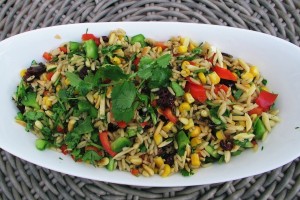 Preparation time: 15 mins. + 2 hrs. Refrigeration time | Serves 2-4 persons
This Easy Rice Salad Recipe is the best salad for summer and is perfect for a lunch meal. This salad contains lots of healthy ingredients like beans, green pepper, tomato, onion, and a lot more you can add as per availability or your taste. The dressing is prepared mainly with peanut oil and lemon juice with a seasoning of peppers. You can add some other dressing of your choice like French dressing. If using this recipe as a part of your healthy diet plan, then it is better to limit the amount of oil.
Ingredients:
2 cups long-grain boiled rice
1 can black beans (rinsed and drained well)
3-4 small tomatoes (diced)
1 scallion (diced)
1 cup sweet corn (drained)
1 green bell pepper (chopped)
1 stalk spring onion (sliced)
½ bunch of fresh cilantro (chopped)
For Dressing:
1/3 cup peanut oil
3 tbsp fresh lemon juice
1 tbsp Worcestershire sauce
½ tsp ground black pepper
½ tsp ground cayenne pepper
1 tsp sugar
Salt to taste
Procedure:
1. Dry beans very well so that there would be no moisture before mixing them with other ingredients.
2. In a large salad bowl, combine all ingredients of the salad including rice, beans, corn, cilantro, onion, bell pepper, and tomatoes.
3. In another bowl, whisk together peanut oil, lemon juice, Worcestershire sauce, black pepper, cayenne pepper, sugar, and salt and make a smooth mixture.
4. Pour this dressing onto the salad mixture and toss them well, and then chill it in the fridge for 1-2 hrs. The healthy rice salad will be ready to eat as it is or with the topping of some sauce like chili garlic, green garlic sauce, etc.
photo source : 1