Drying Racks for Dishes are the must-have kitchen storage unit that is used to place washed and wet dishes, utensils, and glasses to dry. But managing kitchen drying racks create lots of trouble for a housewife because they aren't usually designed in an organized way and your crockery would ultimately get damaged. Moreover, these racks need to clean regularly to remove the grunge and the water released from the crockery placed on it creates a mess around the sink. So you should choose the properly designed Drying Racks for Dishes; in this article, we have tried to show you the best ever modern drying racks that are available at discount rates.
Stainless Steel Dish Rack With Innovative Drainage System
Simplehuman Steel Frame Dish Rack is the best-ever designed Drying Rack for Dishes, Glasses, Cups, and Utensils. The whole frame body is made of Stainless Steel that is footprint-safe to keep the outer body clean at all times.
Separate Sections of the Rack
It has separate sections for each kind of crockery to place with removable attachments.
The main central area is for placing dishes and large crockery which keeps the dishes and plates safe due to supports and hinges.
The separate removable utensils box (divided into two) and bamboo knife block is also attached to it to keep them separate from the large crockery.
This Simplehuman drying rack has two additional sections for placing cups and glasses on each side. Both of these sections are removable and come with separate drip trays. One side attachment is for placing four cups at a time while the other is for Wine glasses (place stem side up) or even larger size glasses. The wine glass stand is a collapsible portion that nicely folds for easier storage.
Elevated Drainage Spout
The More important is its Innovative Drainage System; through this system, all the water stored in the drip tray flows towards an outer spout which draws all the water directly into the sink. This spout can be moved within 180 degrees, so you can place this whole drying rack in either long or short directions.
Where to Buy?
After reading this article you would definitely want to buy this Simplehuman Steel Frame Dish Rack. You can catch this Drying Rack from the Amazon store at a discount rate which is for a limited-time offer.
Polder Advantage Dish Rack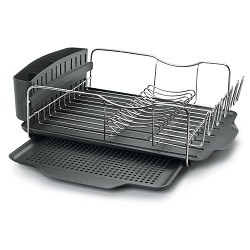 This Drying Rack for Dishes is also a nicely organized kitchen storage device. The main feature of this Polder drying rack is its rust-free brushed stainless steel body. In this manner, the rack housing will remain clean and tidy forever. Whereas the stainless steel rack is also designed so elegantly that it has long trail support at two sides which restricts the slipping of objects and easy to carry the whole rack. While the shorter sides are covered by a utensil box and cup holder; so makes a complete box-like shape.
Sections
It is designed in a slightly simpler manner as it has a full-size rack with a dripping tray and utensil box attached to one side.
The full size drying rack has slots for placing each type of crockery; i.e. large plates and dishes are placed in the curved section which is slightly up and can carry up to 100 dishes at a time.
The glasses and cup holders are also provided on one of the sides and have the capacity to hold 6 glasses at a time.
The plain wider section of the rack is for placing pans and bowls.
A separate Utensils box is also attached at one end which can be removed for washing and has three sections to organize utensils in a better way.
One additional drying tray is provided at the base which slides out easily and is best to put glasses and other stuff for drying thus giving extra room for drying.
Where to Buy?
You can catch this Polder KTH-615 Drying Rack from Amazon at an 11% discount rate which will be soon ended.
So hurry up! And quickly choose one of your favorite Drying Rack For Dishes to make your life easier but at an affordable price.