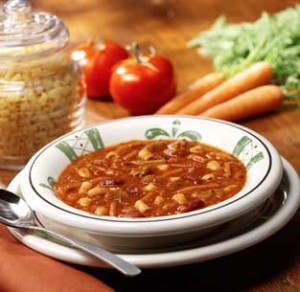 Preparation time : 50 min. | Serves 10 persons
This recipe is inspired from the original Pasta e Fagioli recipe of Olive Garden restaurant. The recipe looks like a soup that contains macaroni, beef, vegetables and beans.
Ingredients:
3 tsp oil
2 lb ground beef
2 garlic cloves (minced)
1 tsp ginger (minced)
12 oz onion (chopped)
14 oz carrots (thinly sliced)
14 oz celery (diced)
48 oz canned tomatoes (diced)
2 cup cooked red kidney beans (drain)
2 cup cooked white kidney beans (drain)
80 oz beef stock
3 tsp oregano
2 tsp pepper
5 tsp parsley (chopped)
1½ tsp Tabasco sauce
48 oz spaghetti sauce
8 oz pasta shell macaroni
Procedure:
1. Heat oil in a large sauce pan and cook beef with ginger and garlic until all water of beef would get dry.
2. Add beans, beef stock, oregano, pepper, Tabasco and spaghetti sauce to beef and let it boil.
3. After that add onions, carrots, celery and tomatoes and simmer for 10 min so that all flavors blend well.
4. Add chopped parsley and macaroni and simmer again until pasta, celery and carrots are tender it would take 30 min. Delicious pasta e fagioli is ready to serve hot.
photo source : 1