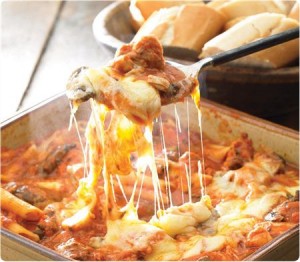 Preparation time : 50 mins. | Serves 6 persons
This chicken pasta bake is more like a casserole dish which is filled with lots of flavors including veggies, chicken and cheese. It can be served as complete meal for either dinner or lunch and hot crisp garlic bread makes additional complement to this yummy pasta.
Ingredients:
For Chicken And Vegetables:
2 lb boneless chicken (cut into thin strips)
Salt to taste
½ tsp white pepper
1 tsp chicken powder
1 tbsp chili sauce
1 tsp oregano
1 egg (lightly beaten)
2 tbsp corn flour
1 can sweet corn
2 medium capsicum (cut into strips)
3 cloves garlic (chopped)
4 butter mushrooms (sliced)
¼ cup oil
For Sauce:
2 tbsp butter
3 Tbsp flour
1½ cup chicken stock
1½ cup milk
1 tsp mustard paste
Salt to taste
¼ tsp white pepper
2 slices cheddar cheese
For Assembling:
3 cup Penne pasta or macaroni
1 cup mozzarella cheese (grated)
2 tbsp Parmesan cheese
2 tsp oregano
Chili garlic sauce as required
1 tbsp butter
Procedure:
1. Marinate chicken with ingredients mentioned for chicken and vegetables including salt, white pepper, chicken powder, chili sauce, oregano, egg and corn flour . Leave for 15 mins.
2. In a wok sauté garlic in oil until its turns into golden brown, then add marinated chicken and cook over medium heat till chicken turn into light brown color.
3. After that add veggies including sweet corn, mushroom, and capsicum and sauté for just 2-3 mins.
4. Now boil pasta according to package instructions.
6. To prepare sauce, heat butter in a sauce pan add flour and cook till fragrant, then add stock, milk, mustard, salt, white pepper, cheddar cheese whisk till sauce gets thick. Then remove it form heat.
7. Now to assemble the pasta, sauce and chicken, take a greased casserole dish spoon 1-2 tbsp of sauce at the base and spread it evenly, make layer of pasta first, sprinkle half of mozzarella cheese, whole prepared chicken and vegetables, rest of the white sauce, spoon butter and chili garlic sauce according to your taste and finally cover with remaining mozzarella. Sprinkle oregano at the top and then bake in pre-heated oven for 25 mins. at 350 degrees F or until the white sauce begins to boil.
photo source : 1