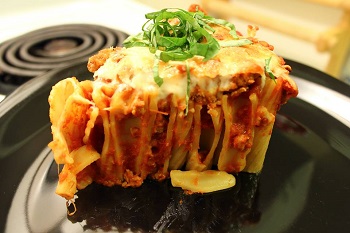 Preparation time: 60 mins. (approx.) | Serves 8 persons
Rigatoni Pie is one of the famous Italian pies which can be called as pasta cheesecake. The recipe consists of meat sauce, rigatoni, and three cheese flavors. The best rigatoni pie can be made only when all the pasta is stuffed well so that the pie would not get dry from the inside. It is preferred to use wide shape rigatoni for getting better results and easy stuffing.
Ingredients:
1 lb wide rigatoni pasta
1 tbsp olive oil
1 tbsp butter
1 lb ground beef
28 oz crushed tomatoes
1 tbsp Worcestershire sauce
1 tsp Italian seasoning
½ tsp garlic powder
¼ tsp crushed red pepper flakes
Salt and pepper to taste
1½ cups freshly grated parmesan cheese
4 oz ricotta cheese
1½ cups shredded mozzarella cheese
Procedure:
1. Boil rigatoni in salted water for 5-8 mins. or until they just become soft to handle easily.
2. When rigatoni has been done, drain and then stir in olive oil.
3. Now heat butter in a pan, add ground beef, and cook over medium-high heat until turns brown. Drain extra fat from the beef and return to the pan.
4. Add tomatoes, Italian seasoning, Worcestershire sauce, garlic powder, red pepper flakes, salt, and pepper and mix well. Reduce the heat to simmer, cover and cook for 15-20 mins.
5. When the beef mixture is ready and has a texture like sauce, then remove the pan from heat and set aside.
6. Stir the cooked rigatoni with half of the parmesan cheese until well-coated.
7. Then take a greased 9" springform pan, and start placing rigatoni vertically into the pan until it is packed completely.
8. When the rigatoni pasta is set well in the pan, make a layer of ricotta cheese evenly over the pasta, then spread the prepared beef sauce on it and press with clean hands to carefully push the meat sauce down into the rigatoni. It is the main step of this recipe, by cleanly inserting sauce into the rigatoni holes, the better result you will obtain.
9. After that place the pan into the preheated oven at 400 degrees F for 15 mins. then remove it and sprinkle the remaining cheeses separately including parmesan and mozzarella. Place the pan in the oven again and bake it for a further 15 mins. until becomes brown from the top and starts bubbling.
10. Take out the pan from the oven; allow it to stand in the springform pan for 15 mins. Then, carefully pass the knife edge along the sides of the pan, remove the sides of the springform pan, and then slice it and serve immediately.