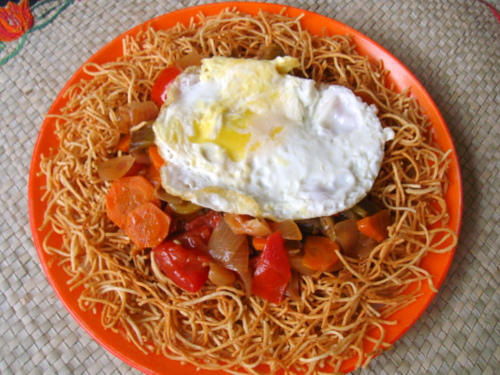 Preparation time ; 30 min. | Serves 2 persons
American Chop Suey Recipe is one of a famous food derived from Chinese cuisine. The American version differs in a very little manner that fried noodles are used and served with whole fried egg.
Ingredients:
1 packet egg noodles
½ lb boneless chicken (cut into strips)
1 carrot (julienne)
1 red capsicum (julienne)
1 green capsicum (julienne)
1 onion (julienne)
1 cup cabbage (roughly chopped)
Oil for deep frying
4 tbsp ketchup
Salt to taste
½ cup chicken stock
1 tbsp minced garlic
2 tbsp vinegar
1/2 tsp white pepper
1 tbsp corn flour
3 tbsp chili garlic sauce
2 tbsp sugar
½ tsp chinese salt
1 egg fried for topping
Procedure:
Boil noodles according to the package instructions.for 5 minutes, strain and dry
When the noodle get dry, heat oil for deep frying in the wok and fry noodles without stirring until become crisp. Then take it out into the platter.
Now in a sauce pan heat 2 tbsp of oil and saute garlic in it. Add chicken and cook till become white in color.
Now add capsicum, onion, cabbage and carrot and cook for 1-2 min.
Then add seasoning of salt and pepper along with ketchup, chili garlic sauce, chinese salt and chicken stock. Mix them well and let the mixture boils, then simmer for 5 min.
Dissolve cornflour in 2 tbsp of water and add it to the veggies and mix well when the sauce gets thick pour it to the fried noodles and serve immediately with the topping of fried egg.
photo source : 1