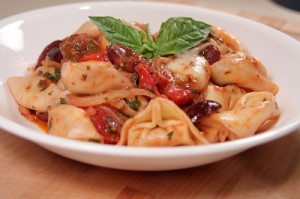 Preparation time : 20 mins. | Serves 4 persons
This Pasta Rustica recipe is prepared with slightly different tomato sauce and delicious flavor of smoked mozzarella. You can also prepare this recipe with any kind of pasta like penne pasta or spaghetti.
Ingredients:
2 pckg tortellini pasta or any pasta (boiled)
¼ cup olive oil
1 cup onion (chopped)
4 cloves garlic (minced)
28 oz crushed tomatoes
1 cup pitted ripe olives (halved)
½ tsp salt
1 tsp black pepper
1 tbsp sugar
¾ cup chicken broth
½ cup basil leaves (coarsely chopped)
1 lb smoked mozzarella (cut into ½-inch cubes)
Procedure:
1. To prepare sauce, saute onion and garlic in oil for 3-5 mins.
2. Add in crushed tomatoes, olives, salt, and pepper and for about cook 2-3 mins.
3. Then add seasoning of salt, black pepper and sugar along with chicken broth and bring the mixture to boil.
4. After that simmer for about 10 mins. so that tomatoes becomes soft and thick sauce would form.
5. When sauce is done, stir in basil, tortellini and smoked mozzarella and serve immediately.
photo source : 1