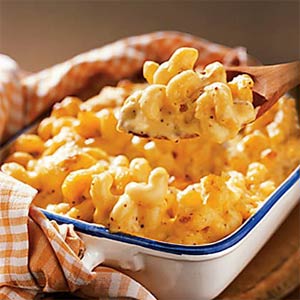 Preparation time : 30 min. | Serves 4 persons
This Recipe for Macaroni and Cheese was inspired by the original copycat Boston Market Macaroni and Cheese Recipe. This Macaroni and cheese tastes more delicious if it is served with any pasta sauce and salsa.
Ingredients:
¼ cup elbow macaroni (cooked)
¼ cup margarine
1 tbsp minced onion
¼ cup all-purpose flour
2 cup milk
Salt to taste
½ tsp crushed black pepper
¼ tsp ground mustard
4 oz processed American cheese (cubed)
1 tsp dried parsley (optional)
1 tsp dried basil (optional)
Procedure:
1. Heat butter in a pan and cook onion until become pink in color.
2. Add flour and cook until pleasant smell starts to come from the flour, it would take 2 min.
3. Now gradually add milk to the flour mixture and stir constantly to form smooth batter and no lumps would be there.
4. When batter becomes smooth add rest of the ingredients including slat, pepper, cheese and mustard and mix them well.
5. When the sauce gets thick, remove the pan from heat and gently mix with macaroni so that batter coats evenly around the macaroni.
6. Pour the macaroni mixture into the greased casserole dish and sprinkle dried parsley and basil on top. Bake in preheated oven for 20 min at 400 degrees F until a fine golden brown color appears at the top of macaroni.
photo source : 1