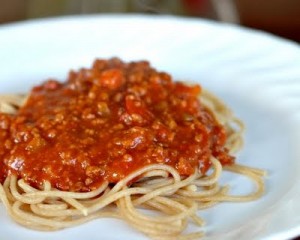 Preparation time : 30 mins. | serves 4 persons
This Italian spaghetti is prepared with meat sauce of minced beef, tomatoes and Italian seasoning. In some other Italian spaghetti recipes Italian sausages are also used along with ground beef which enhances its flavor. This recipe can also be prepared with veggies and chicken.
Ingredients:
250 gm ground beef
1 cup tomato sauce
3/4 cup tomato paste
2 medium size tomatoes
1 medium size onion (chopped)
3-4 green chilies (chopped)
1/2 cup mushrooms (drained and chopped)
1 1/2 tsp parsley (chopped)
2 tsp Italian seasoning
1 tsp cumin seeds
1/2 tsp chili powder
1/4 tsp turmeric powder
3 tbsp garlic powder
1 cup mozzarella cheese (shredded)
1 package thin spaghetti (boiled)
1/4 cup Parmesan cheese (grated)
1/4 cup vegetable oil
Procedure:
1. In a sauce pan heat oil and add ground beef with 1 tbsp garlic powder and onion and cook on medium heat until all the water of beef would have been dried.
2. Now add tomato sauce, tomato paste, mushrooms, Italian seasoning, cumin seeds, chili powder, turmeric powder and 1 tbsp garlic powder. Mix all these ingredients in beef and simmer for 10-15 mins.
3. After that add parsley, remaining garlic powder and green chilies, cook it for 3-4 mins more.
4. Remove the pan from heat and mix mozzarella cheese in the hot cooked beef sauce.
5. In a serving dish spread the boiled spaghetti at the base, pour the prepared beef sauce and sprinkle some grated Parmesan cheese on top.