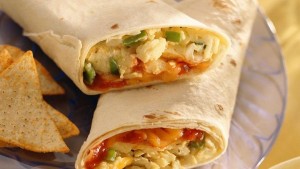 Preparation time : 20 mins. | Serves 4 persons
This Egg Wrap Recipe is prepared in Mexican style with some spicy flavor of jalapeno and green pepper. These wraps can be prepared in variety of ways by putting some different veggies or shredded meat with scrambled eggs.
Ingredients:
4 flour tortillas
3 large eggs
2 tsp cold water
2 tsp jalapeno pepper (finely chopped)
½ medium sized green pepper
1 small white onion (coarsely chopped)
2 oz grated cheddar cheese
¼ cup tomatoes (chopped)
¼ cup fresh cilantro (chopped)
Salt to taste
½ cup ketchup
1 tbsp hot sauce
Procedure:
1. In a frying pan, saute pepper, onion and jalapeno.
2. Beat eggs with water and salt till frothy, add it to the saute vegetables and cook with constant stirring to make the egg scramble. Cook for 2-3 mins.
3. Remove the pan from heat add tomatoes and cilantro to the mixture and set aside.
4. Mix together ketchup and hot sauce.
5. Warm tortillas on skillet, divide egg mixture equally over each tortilla, sprinkle cheddar cheese, drizzle some tomato ketchup mixture and wrap tortillas to seal the stuffing.
6. Put in microwave for just 1 min. to make the cheese melt and serve immediately.
photo source : 1