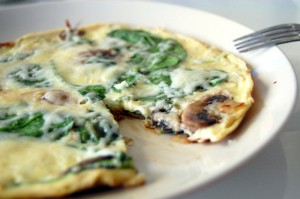 Preparation time : 10 mins. | Serves 2 persons
This Spinach Omelet is one of an easy, quick and healthy breakfast recipe which is prepared with veggies and cheese. You may also add veggies of your choice like tomatoes, bell peppers etc. to make it rich and according to your taste.
Ingredients:
2 large eggs
¼ tsp onion powder
Salt to taste
1 cup baby spinach leaves (cleaned properly)
2-3 green chilies (chopped)
1-2 butter mushrooms (sliced)
¼ cup grated cheddar cheese
1½ tbsp grated Parmesan cheese
Procedure:
1. Beat eggs with salt and onion powder until frothy and set aside.
2. Heat oil in a skillet, pour the beaten eggs and immediately put spinach, chilies, mushrooms and cheeses on top of the egg. Cover and cook for 2-3 mins over medium heat till egg cook well and cheese melts completely.
photo source : 1