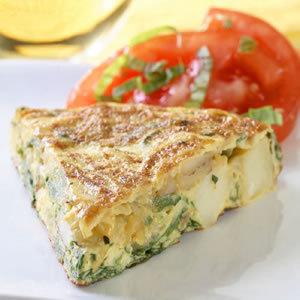 Preparation time : 30 min. | serves 6 persons
This Spanish tortilla recipe is also called egg tortilla as the base of this recipe are eggs. The tortilla is prepared with potatoes and spinach in which you can also add some other seasonal veggies to make it more healthy food recipe. It is usually served hot with garlic bread or plain bread.
Ingredients:
3 tsp extra-virgin olive oil, divided
1 small onion (thinly sliced)
1 cup boiled potatoes (diced)
1 tbsp fresh thyme (chopped)
1/2 tsp smoked paprika
6 large eggs (lightly beaten)
4 large egg whites (lightly beaten)
1/2 cup Jack cheese (shredded)
3 cups baby spinach (roughly chopped)
1/2 tsp salt or to taste
1/2 tsp freshly ground pepper
Procedure:
1. Take a nonstick skillet and heat 2 tsp olive oil in it.
2. Add sliced onions and saute until become pink in color.
3. After that add potatoes, thyme, paprika, salt and pepper and cook for 2-3 min at medium heat
4. Add potatoes, thyme and paprika and cook for 2 minutes more.
5. Take out the potato mixture in a mixing bowl and immediately stir it with beaten eggs and egg whites and then fold spinach and cheese with the batter.
6. Now take the same skillet as used above but make it clean using paper tissue and then heat remaining oil.
7. Pour the egg batter into the skillet, cover it and cook for 5-10 min at low heat until edges are cooked properly.
8. After that when edges are loosen after cook turn the tortilla to other side and let it cook for further 3 min. To carefully turn the tortilla cover skillet with the plain platter and and turn the skillet, tortilla will transfer onto the platter and then carefully slide this tortilla to the skillet so that it would cook from other side.
photo source : 1