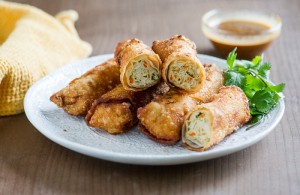 Preparation time : 40 mins. | Serves 12-16 rolls
These Spring Egg Rolls are prepared with chicken, egg and vegetable flavor with few seasoning ingredients. These rolls are one of a favorite Asian rolls which is prepared in various styles like frankie, in this particular recipe eggs are cooked along with other stuff while in some other recipes boiled eggs are used in the stuffing along with veggies which are also very tasty.
Ingredients:
1 lb ground chicken
1 cup cabbage (shredded)
3 green onions (finely chopped)
½ cup carrot (grated)
½ cup capsicum (finely chopped)
3 large cloves garlic (minced)
2 large egg
1 tsp salt
½ tsp chinese salt
1 tbsp fish sauce or soy sauce
1 tbsp freshly crushed black pepper
1 pkg egg roll wrappers or spring roll wrappers
Oil for deep frying
Procedure:
1. In a wok, add 2 tbsp oil and saute garlic in it for just a minute.
2. Add ground chicken and cook gently over medium heat until become white in color.
3. Add fish sauce, chinese salt, salt and black pepper along with ¼ cup water and simmer for 10 mins. until chicken tender completely.
4. When chicken is done and there is not liquid in the pan, add veggies including carrot, cabbage, capsicum and green onions and toss them well with the chicken mixture over high heat for just 1-2 mins. Make sure veggies should remain crisp.
5. Now pour beaten egg over the mixture, cover the lid and cook over high heat for 2-3 mins, till egg cook well.
6. Then remove the pan from heat and scramble the egg mixture lightly using fork just to break into small parts.
7. Take a piece of wrapper, spoon 2-3 tbsp of prepared egg mixture at one corner and start rolling the wrapper till next corner. Apply egg white at the corners to seal the roll properly. Similarly prepare rest of the rolls.
8. Heat oil for deep frying in the wok and fry the prepared spring rolls in batches till become light golden in color from both sides.
9. Serve the hot spring egg roll with ketchup or tamarind sauce.
Note:
Watch the video below to learn how to properly wrap the spring rolls.
photo source : 1