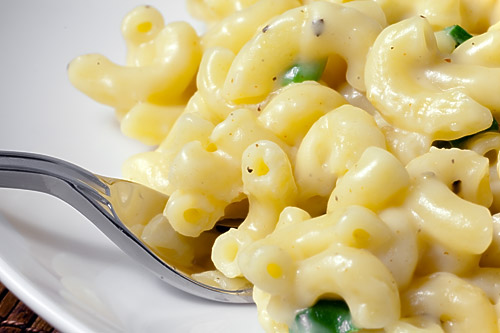 Preparation time: 20 mins | Serves 7 persons
This Italian pasta recipe is prepared with special white sauce along with some cheesy flavor of Parmesan and cheddar. Hence it is also called Italian Cheese Pasta.
Ingredients:
2 cups pasta (use any pasta or even macaroni)
1/4 cup margarine
1/3 cup all-purpose flour
1-1/2 cups milk
1/4 cup chicken stock
1 cup sour cream
1/4 cup grated Parmesan cheese
1/2 tsp mustard powder
1 tsp Italian seasoning
1/2 tsp pepper
2 cups shredded cheddar cheese
Procedure:
1. To make this Italian pasta, boil pasta with salt and oil as per instructions mentioned on the packet.
2. To make sauce, melt butter in a sauce pan and add flour. Stir continuously so that flour would evenly roast with butter.
3. When a particular roasted smell starts to come from the flour gradually add milk and stock and stir well so that lumps may not form otherwise dissolve it using whisk.
4. Cook the mixture on medium heat until it starts bubbling and gets thick.
5. After that reduce heat and add sour cream, Parmesan cheese, mustard and pepper. Cook for further 2-3 mins.
6. Add boiled pasta to the sauce with cheddar cheese and mix. After 2-3 mins remove the pan from heat and transfer the whole pasta into the serving bowl.
7. Serve the Italian Cheese pasta with garlci bread or with ketchup.