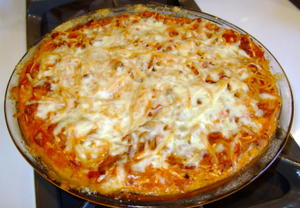 Preparation time : 35 mins. | Serves 4-6 persons
In this spaghetti pie recipe no pie crust is used, the base is prepared with seasoned spaghetti and the topping of mozzarella cheese and tomato sauce gives its look like pizza. In this recipe chicken minced is used in the filling of pie but you may also use sausages or ground beef in place of minced chicken.
Ingredients:
6 oz spaghetti
2 tbsp margarine
1/3 cup Parmesan cheese (grated)
2 eggs (beaten)
1 cup cooked chicken mince
Salt and pepper to taste
8oz tomato sauce
6 oz tomato paste
1 tsp sugar
½ tsp oregano
½ cup mozzarella cheese (grated)
Procedure:
1. Boil spaghetti according to the instructions mentioned on the package.
2. After that combine spaghetti, margarine and Parmesan cheese and spread it over the base and sides of pie dish. Pour beaten eggs over the spaghetti.
3. Add cooked chicken mince, tomato sauce and tomato paste in the center of spaghetti and in the end sprinkle some seasoning of salt, pepper and oregano and spread mozzarella cheese on top.
4. Now place the pie dish on preheated oven for 20-25 mins at 350 degrees F.
photo source : 1