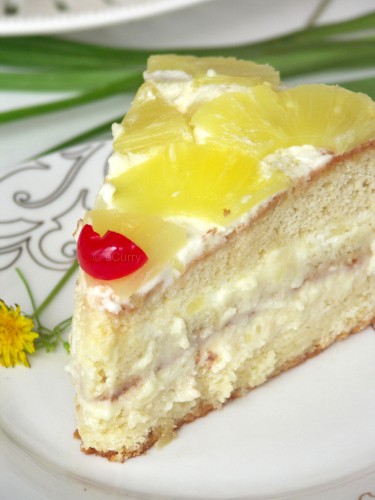 Preparation time : 50 min. | Serves 8-10 pieces of pastry
This cream pastry recipe is prepared with pineapple flavor and is almost the same as the typical pineapple cream cake. It only differs in topping, butter cream in used in the topping which sets nicely and quickly so its not necessary to chill the pastry before serving.
Ingredients :
For sponge:
4 eggs
4 oz caster sugar
4 oz flour
1 tsp baking powder
1 tsp vanilla essence
For Filling And Topping :
1 can crushed pineapples with juice
2-4 oz icing sugar (or as required)
12 oz butter cream
1 tsp vanilla
Cherries as required
Procedure :
1. Beat eggs with electric beater at high speed till gets foamy texture.
2. Add sugar and beat again to make creamy batter.
3. Then add vanilla essence and just mix.
4. Sift together flour and baking powder then add it gradually to the batter and make uniform batter.
5. Pour the batter into the rectangular baking pan (which has been greased and dusted with flour), bake for 25 min. at 350 degrees F until become done.
6. Then cool the sponge to room temperature. Meanwhile beat the butter with icing sugar and vanilla till become thick and fluffy.
7. Now divide the sponge into two equal pieces from horizontally, pour half of the pineapple syrup over the base piece, spread pineapple chunks and then cover with one-third of the whipped cream.
8. Now place the top portion of sponge over the filling pour the remaining juice over the sponge, cover the top of sponge from cream evenly. Nicely place whole pineapple slices on the top of cream and place cherries at the center of each pineapple slice, then cut into rectangular pieces.
photo source : 1