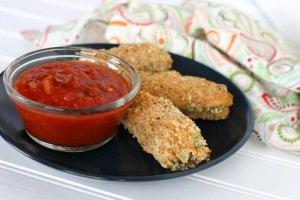 Preparation time : 20 min. | Serves 12 poppers
This Jalapeno Poppers recipe is such a recipe which requires no more seasoning and prepared in simple manner. The idea is to just stuff peppers with cheese filling and fry with crumbs and egg in oil to make crisp. You may also add other ingredients of your choice in the stuffing.
Ingredients:
12 jalapeno Poppers
4 oz cream cheese (softened)
2 oz cheddar cheese (grated)
¼ cup flour
1 egg (lightly beaten)
½ cup fine bread crumbs
oil for deep frying
Procedure:
1. Roast the jalapeno peppers in a preheated oven at 450F oven until browned on all sides or you you can roast it in a skillet at low heat but you need to shake peppers time to time.
2. After that cover the peppers with plastic wrap and let cool.
3. Now make a cut on each pepper in such a way that a slit is open to fill the stuffing and shape of pepper would remain same. take out all the seeds from the pepper from the open side.
4. In mixing bowl combine cream cheese and cheddar cheese.
5. Spoon 1-2 tbsp of the cheese mixture into the pepper and press to sealed.
6. Now dust the stuffed peppers with the flour, dip them in the egg and coat them with bread crumbs.
8. Heat oil in a wok for deep frying and fry the peppers in batches until become golden brown in color
9. Serve the hot jalapeno poppers with tomato ketchup or salsa.
photo source : 1